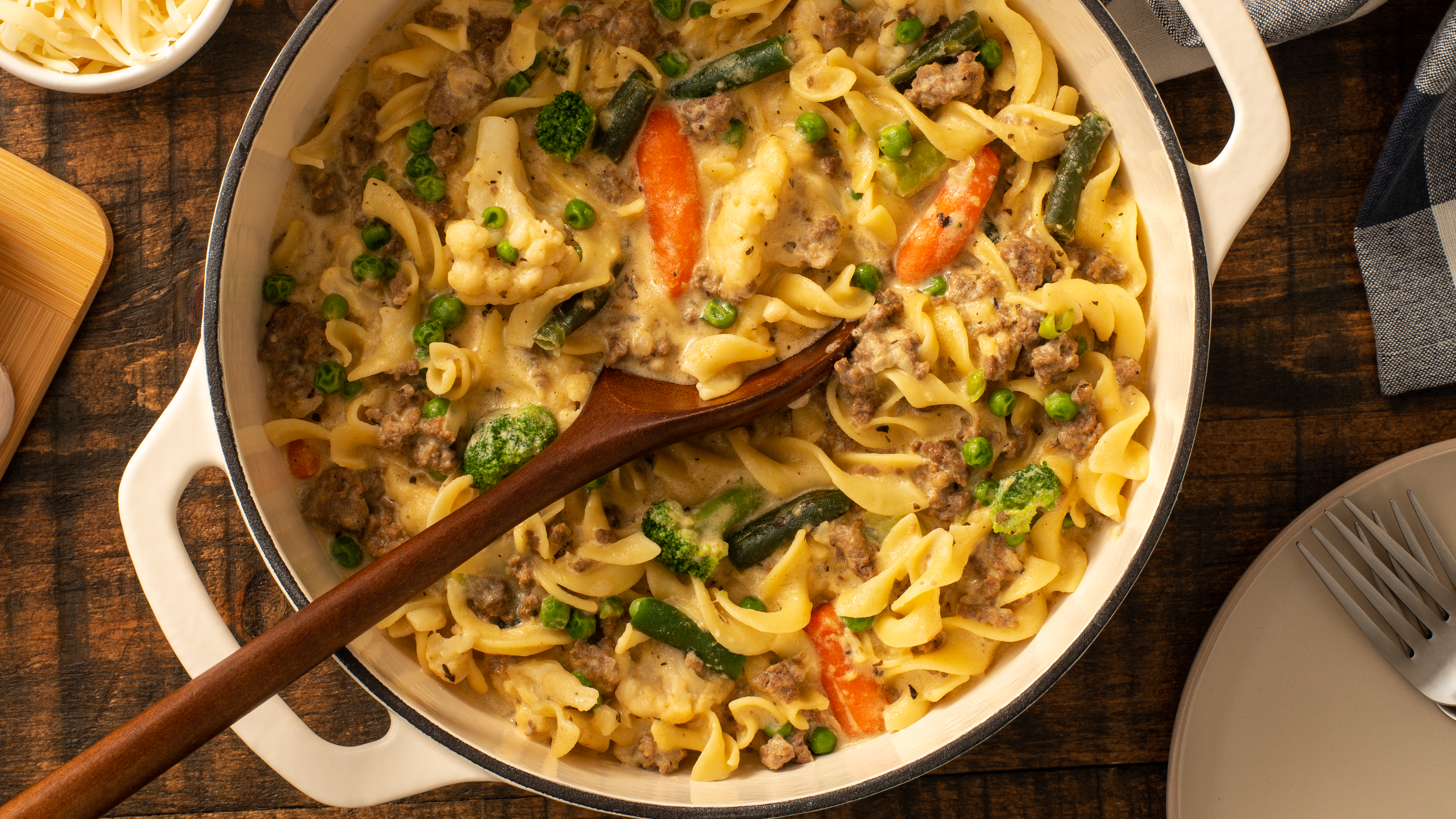 This recipe is taken from the 2001 Milk Calendar. Everyone in your family will love this satisfying weekday dish. It requires little effort and the whole meal, including the noodles, cooks in one pot.
Ingredients
1 lb (450 g) lean ground beef
1 large onion finely chopped
4 garlic cloves minced
2 tsp (10 mL) dried basil
2 tsp (10 mL) dried oregano
3 tbsp (45 mL) all-purpose flour
5 cups (1.25 L) Canadian milk
1 cup (250 mL) water
3 tbsp (45 mL) Dijon mustard
3 cups (750 mL) broad egg noodles uncooked (about 8 oz/250 g)
1 lb (450 g) 1 package of frozen chunky mixed vegetables (about 4 cups/1 L)
1 cup (250 mL) shredded Canadian Old Cheddar cheese
1 tsp (5 mL) salt
1/2 tsp (2 mL) pepper
1/4 cup (60 mL) coarsely chopped fresh parsley
Directions
In large pot over high heat, cook beef and onion for 5 min; drain off fat. Add garlic, basil and oregano.
Reduce heat to medium. Sprinkle beef mixture with flour; cook, stirring, for 1 min. Gradually stir in milk, water and mustard; cook, stirring, until sauce comes to a boil.
Stir in noodles and return to boil. Reduce heat, cover and simmer for 10 min, stirring occasionally.
Stir in frozen vegetables; cover and simmer, stirring often, for 5 min or until noodles and vegetables are tender. Stir in cheese, salt and pepper. Sprinkle servings with parsley.
TIPS
For the Adventurous: Add 1/4 tsp (1 mL) dried pepper flakes with the dried herbs for an extra kick. Try different blends of frozen chunky mixed vegetables, such as Japanese, Thai, Italian and California styles.
Healthy Eating Tip: More than calcium- milk and cheese contain five key bone-building nutrients- calcium, protein, magnesium, phosphorus and Vitamin A. One serving of this recipe provides one serving of milk products. Canada's Food Guide to Healthy Eating recommends 2 to 4 servings of milk products every day.