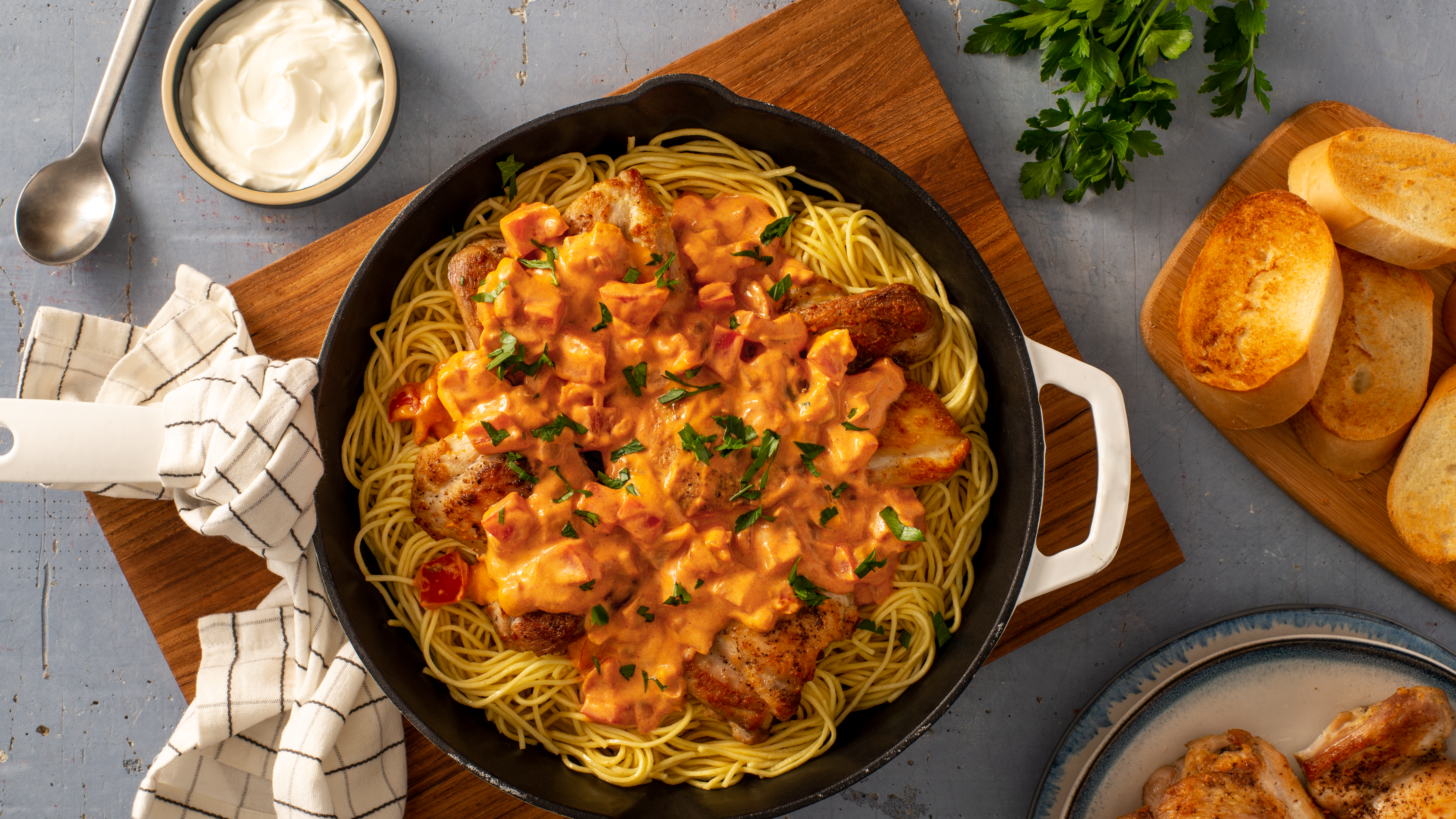 This recipe is taken from the 2002 Milk Calendar. A traditional Hungarian dish modernized to satisfy the whole family, without losing the delicious combination of sweet paprika, chicken and sour cream. Serve over fresh angel hair pasta
Ingredients
1 tbsp (15 mL) vegetable oil
1 medium onion chopped
2 tbsp (30 mL) sweet paprika
1 tsp (5 mL) salt
1/2 tsp (2 mL) pepper
2 lb (1 Kg) skinless chicken thighs
4 tsp (20 mL) all-purpose flour
1 cup (250 mL) Canadian milk
1 red bell pepper or green bell pepper chopped
2 ripe plum tomatoes diced
11 1/2 oz (350 g) fresh angel hair pasta
1/2 cup (125 mL) Canadian sour cream
Salt to taste
Chopped fresh parsley
Directions
In large non-stick pan, heat oil over medium-high heat; cook onion, stirring, for 2 min. Add paprika; cook, stirring, for 2 min. Sprinkle chicken with salt and pepper and add to pan. Brown for 5 min on each side; adding more oil if necessary to prevent burning.
Reduce heat to medium. Whisk 3 tsp (15 mL) of the flour into milk; pour into pan and bring to a simmer, stirring. Reduce heat to medium-low; cover and simmer for 10 min. Stir in red pepper and tomatoes; cover and simmer for about 10 min longer or until chicken is no longer pink inside.
Meanwhile, cook pasta in boiling water according to package directions; drain.
Transfer chicken to serving plate. Reduce heat to low. Whisk remaining 1 tsp (5 mL) flour into sour cream; whisk into tomato mixture and cook, stirring, for 1 min. Season to taste with salt. Pour over chicken and sprinkle with parsley. Serve over pasta.
TIPS
For the Adventurous: Add 1/2 cup (125 mL) dry white wine after chicken is browned in step 1.
Healthy Eating Tip: Pumping iron- Using fresh pasta to accompany your meal provides a good source of iron. Iron helps to transport oxygen around our body.