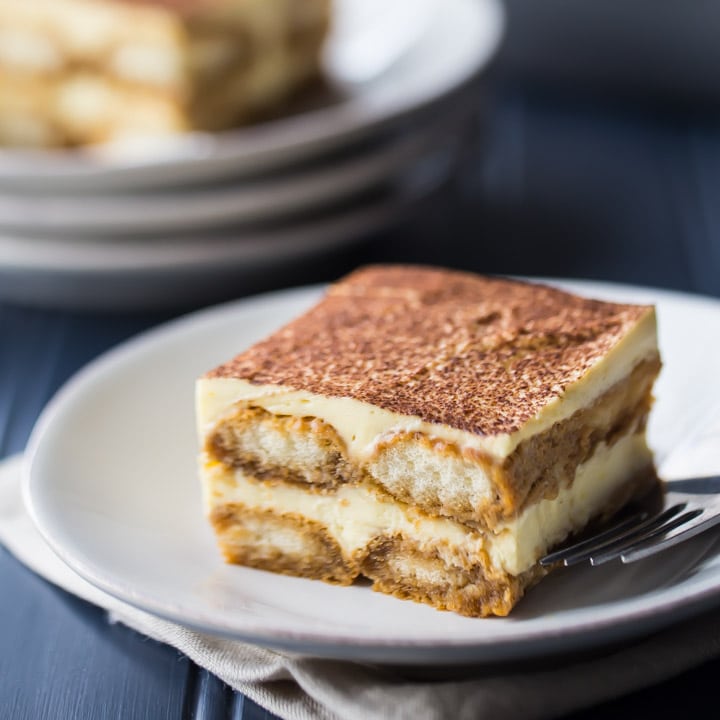 A little 'pick-me-up' heavenly dessert from Italy. So simply and quick to make. Do it up in the morning to serve at a dinner party in the evening. Experiment with bowls and glasses to make interesting and decorative individual servings. Do not make this further ahead than the day of serving, otherwise the cookies become too soggy. Makes 4 individual dessert bowls
Ingredients
½ cup strong coffee or espresso
¼ cup whisky
3 eggs separated
3 tbsp granulated sugar
250-275 g mascarpone cheese
10 ladyfingers
cocoa powder, for garnish
Directions
Combine the hot espresso and whisky in a shallow bowl. Set aside.
In a metal or heatproof bowl set over simmering water, whisk together, without stopping, the egg yolks and the sugar until thick, pale and the mixture forms ribbons. Be careful not to overcook or scramble the eggs.
Immediately transfer the cooked yolks to a bowl to cool to stop the cooking.
In a clean bowl, free of any grease, beat the egg whites with a wire whisk until stiff but not dry.
In another mixer bowl, using the same whisk was used for the egg whites, beat the mascarpone on medium speed for 30 seconds, to soften and aerate.
Fold the cooked egg yolk into the mascarpone cheese. Then, fold in the beaten egg whites in two additions.
To assemble, snap one ladyfinger in half. Quickly dip each half in the espresso mixture and place in the bottom of a dessert bowl. Gently spoon over 1-2 tbsp of the mascarpone mixture. Snap a second ladyfinger in half and dip in the espresso to make another ladyfinger layer. Top with another 1-2 tbsp of mascarpone cheese.
Repeat with the remaining three dessert bowls. Refrigerate several hours.
Just before serving, dust over some cocoa powder. Serve cold.