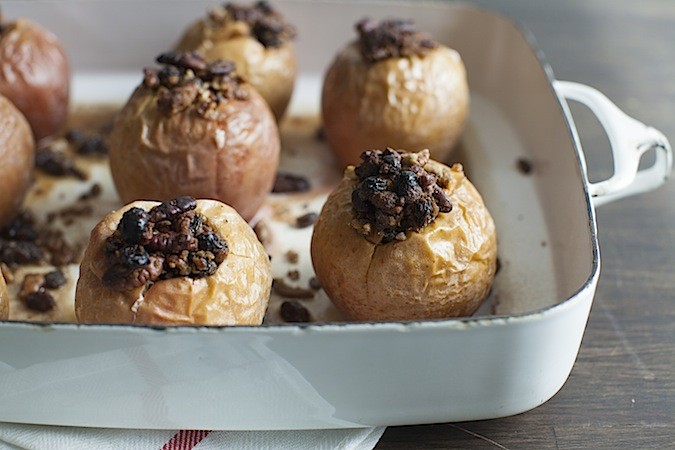 Turn stale cinnamon buns into a luxurious dessert. Serves 8
Ingredients
10 cups (2.5 L) cubed stale cinnamon buns, ideally without icing (homemade or store-bought)
2 cups (500 ml) peeled, cored and diced Gala apples
½ cup (125 ml) brown sugar
½ tsp (2 ml) ground cinnamon
¼ tsp (1 ml) grated nutmeg
5 eggs
½ cup (125 ml) whipping cream
½ cup (125 ml) milk
¼ cup (60 ml) dark rum
1 tsp (5 ml) vanilla
½ cup (125 ml) raw, sliced almonds
 
Rum-Spiked Crème Anglaise
1 cup (250 ml) whipping cream
1 cup (250 ml) milk
2 tsp (10 ml) vanilla extract
6 egg yolks
2/3 cup (160 ml) granulated sugar
1 tbsp (15 ml) dark rum
Directions
Place the cubed cinnamon buns in a large mixing bowl.
In a medium bowl, whisk together the eggs, whipping cream, milk, dark rum and vanilla.
Pour over the cubed cinnamon buns and stir to completely coat the bread.
Let stand for one hour, until most of the liquid has been absorbed.
Meanwhile, in a medium bowl, toss together the apples with the brown sugar, cinnamon and nutmeg. Set aside.
Generously butter eight 7 oz (207 ml) ramekins. Set on a rimmed cookie sheet.
Preheat the oven to 350°F (180°C). To assemble, gently fold the apple mixture into the soaked bread.
Spoon the mixture into the prepared ramekins, filling each one to the top. Sprinkle with sliced almonds.
Bake for about 25 minutes, or until a knife inserted into the centre comes out clean.
Serve warm with the Rum-Spiked Crème Anglaise Sauce.
Rum-Spiked Crème Anglaise
In a medium pot, heat the cream, milk and vanilla extract to almost boiling.
In a medium bowl, whisk together the egg yolks and the sugar.
Whisk about half the hot cream-milk mixture into the prepared egg yolks to temper them. Whisk well.
dd the egg yolk-cream mixture back into the pot and stir the sauce with a wooden spoon until it thickens and coats the back of the spoon.
Remove from heat and stir in the rum. Chill until serving time.
Sauce will thicken as it cools.